Artist: Beintema, Dirk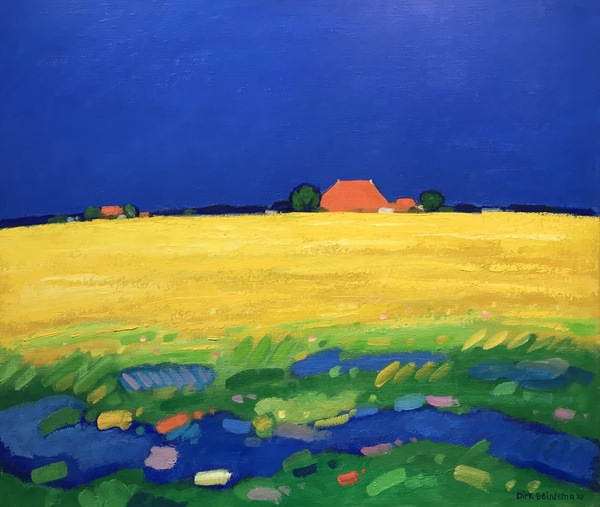 NEW EXHIBITION
Dirk Beintema
(1948 - The Netherlands)
Landscapes and still life
By viewing the works of Dirk Beintema no one can be surprised that he is not only inspired by the great expressionists, but has also developed himself as one of the true representatives of 'Frisian Expressionism' . Based in the north of The Netherlands in the beautiful province 'Friesland' famous for its landscapes, lakes and wide views, Beintema takes you on a colourful and artistic journey.
Deep yellow rapeseed fields extend under sky blue skies. The specular orange channel is dreamy purple blue, flanked by grassy banks. Straight lines shave through the canvas, interspersed with bold diagonals. Beintema uses a broad brush stroke, which is clearly visible in the paint layers.
The artist uses bright colors in bold combinations. The yellow contrasts with blue, red with green. All colors are balanced. The landscapes typically show Dutch compositions with a low horizon, which leaves much room for expressive cloudy skies. While living and working in France from time to time the French landscape is touched by his brush strokes too as you can view in the painting 'Cannes'.
Beintema's work is included in the celebtated exhibition 'Frysk' currently on show in Museum Belvedere, The Netherlands. His works are in musea, private collections and has been purchaed by local and regionals governments as well as leading firms in The Netherlands.
Our gallery started cooperating with Beintema recently (since February 2019) and we are proud to present 5 great works we selected for this exhibition ' 'Landscapes and still life'. Catalogues with works of Beintema are presented in the gallery.