Artist: Devos, Léon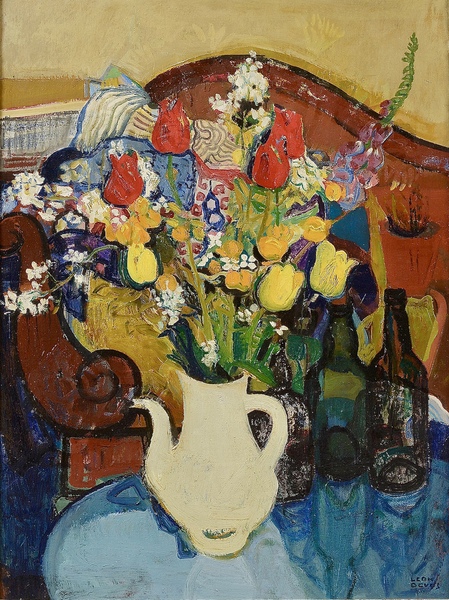 (1897 – 1974)
Léon Devos was an important post-impressionist Belgian painter. He specialized in still-life, nudes, landscapes, flowers and interiors. He studied at the Art Institute of Mons and the Royal Academy of Arts in Brussels. Devos was a co-founder of the artistic group 'Nervia' – they aimed to emphasize the focus on Wallonian art within the broad Belgian art movement. Amongst its members were Pierre Paulus, Leon Navez, Frans Depooter, Taf Wallet, Louis Buisseret and Anto Carte. The 'Nervia' group had it's first group exhibition in 1928.
Devos left for Paris with his friend and also a painter Leon Navez for a longer period of time. Upon his return in Belgium, he became a professor and sequently a director of the Royal Academy of Arts in Brussels in 1948. Devos won many prizes, amongst others: Le Prix d'Hainaut (1928) and the Carnegie Garden Club (1950). He was also a member of the Belgian Royal Academy of Arts & Artists. An overview exhibition of his work was amongst other organized in Namur (1965) and Brussels (1985). Works of Léon Devos are exhibited in the museums of Antwerp, Brussels, Charleroi, Ghent, La Louviere, Liège and Tournai.
The Belgian newspaper 'Le Soir' about the painter Léon Devos in 1985: 'Also called 'the painter of joy', Léon Devos gives the light in the interior a spontaneous force in all it's colours and brightness without loosing the authenticity of the object and it's environment'.