Artist: Doroshenko, S.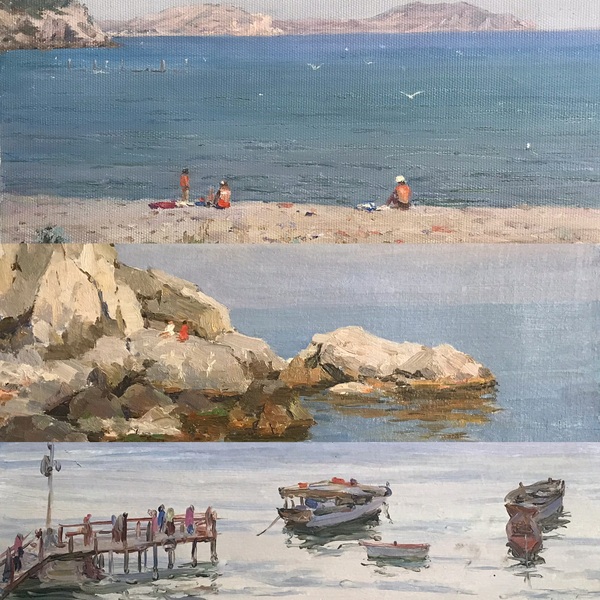 Doroshenko Sergey Vladimirovich is a master of landscape and portrait.
Born on May 2 1915 p. Koroshchino, Glubinsky district, Dnepropetrovsk region. (In reality was born in the Cherkasy region, Zhashkovsky district. the village of Pavlovka at present, until 1917 years: Pavlovka village, Zvenigorodsky district, Kiev province, Ukrainets).
Real surname - Roman Levkovich Solovey, born in 1913.
The artist began his career in 1930s. In 1936 he entered the Kharkov Art School. But later he was repressed as an enemy of the people for organizing assistance in collecting bread for starving children (Extract from archival documents: Lived in Kharkov. Student KhPI.
Arrested on October 20, 1934, as a member of the Ph.D. groups for participating in the preparation a terrorist attack against the leaders of the party and government (Articles 548.5411 of the Criminal Code of the Ukrainian SSR) and Special Board of the Kharkov Regional Court on April 19, 1935 (Articles 5410 h 1, 68 h 1KK of the Ukrainian SSR) sentenced to 8 years of imprisonment in a labor camp with restriction of rights for 5 years. Escaped on February 9
from places of detention in the Chita region. The place of burial is unknown. Rehabilitated 12 September 1991 Rehabilitated by history. Kharkov region. Book 2)
Roman Solovey fled from the camp and until the end of his life was forced to live and work under someone else's name. Roman Solovey completely changed all documents, re-entered Art school. He continued his studies at the Kiev Art Institute, where in 1948 he completed a full course in painting.
Member of the Union of Soviet Artists of the USSR, 1941.
Member of the Union of Soviet Artists of Ukraine since 19.09.1950 p.
He took part in many All-Union and Republican exhibitions.