Artist: Konstantinovna, Alexandra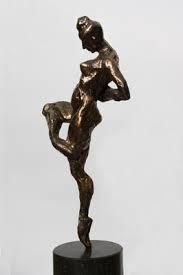 Alexandra Konstantinovna was born in 1980 in Krasnodar, Russia. She becomes fascinated by man, with his falling and rising, his emotions, in all kinds of situations in life. 'For me, life consists of the present that is determined by the past. The future is indeterminate and unclear, the past is the memory. For example, my own memory from childhood, from the period of "upbringing to man". My work goes back to that period, seen from the feeling of now ', says Alexandra.
Alexandra Konstantinovna studied from 2005 to 2009 at theArt Academy Minerva in Groningen. From 1998-2003 she studied Sociology at the Kuban State University of Krasnodar, Russia. She participated in various exhibitions in the Netherlands including in 2015 in the Haagse Kunstkring and in 2016 in the Martinikerk, Groningen, 'Hommage to Matthijs Röling'.