Artist: Mascart, Gustav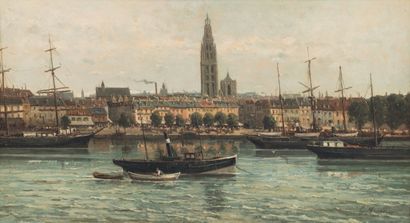 Gustave Mascart (Valenciennes, 1834 - Paris, 1914). Gustave Mascart was a pupil of the much-traveled marine painter Jean-Baptiste Henri Durand-Brager (1814-1879), best known in his life because of his marines with warships.
Mascart focused on the realistic cityscape where the influence of impressionism in this work, 'View on Antwerp' is visible. In 'View of Antwerp' the arrival of the industrial revolution on the river The Schelde flows past us. With an eye for many details, activities and dynamism on both the water and on the quay, Mascart paints not only a beautiful timeframe of Antwerp, but also of our modern history at the end of the 19th century. The style and technique are reminiscent of works by the early impressionist, the Dutchman Johan Barthold Jongkind, one of the most important painters in the prelude to Impressionism of the 19th century.
Mascart painted many cityscapes and ports, especially Paris, Amsterdam, Antweropen, Trouville and Ostend. He is considered one of the pioneers of what has become known as "Montmartre painters", with his views on Montmartre, the Moulin Rouge and Place Pigalle.
About Mascart's works:
In museums, among others. Ostend; Bernay; Saintes.
Sold in auction houses amongst others Christie's; Sotheby's, Bonham's, Dorotheum and Hampel.
Exhibitions include. 1880, Salon de Paris; 1882, 1884, 1887 Salon de Lyon.