Artist: Wallet, Taf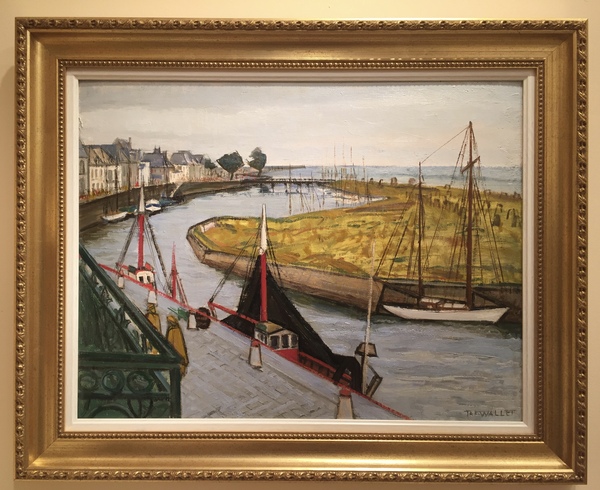 Taf Wallet (La Louvière, 24 November 1902 - Schaerbeek, 1 December 2001) was a Belgian painter, etcher and designer of mosaics and stained glass. He was a friend and contemporary of Paul Delvaux. Born from a Walloon father and a Flemish mother, he first studied wood and marble at the École Industrielle of La Louvière (1916-17). Further training was received at the 'Académié de Mons' at A.Durieu and E.Motte (1920-22), as well as at the Académie de Bruxelles at Constant Montald (1922-26). He settled in Schaerbeek in 1923. In 1928 he won the Godecharle Prize and received the third mention at the Roman Prize.
In 1933, the artist came to live in Sint-Idesbald and his work was greatly influenced by the sea. He also stayed in France and Italy (1928-30). In 1934 he won the Prix du Hainaut (1934).
He gave exhibitions at the Galerie Giroux in Brussels (1945 and 1947) and in the "Salon de Mai" in Paris (1947). In 1947 he became a teacher of engraving and in 1951 a teacher of landscape painting at the 'Higher Institute of Fine Arts' in Antwerp. In 1954 he won the Prix de l'Essor Maritime. In 1928 he was co-founder of the Nervia group and of the Association of Belgian Sea Painters, member of the Cercles Bon Vouloir, Les Amis de l'Art and Les Amis du Hainaut.
His works hang in the museums of Brussels, La Louvière, Antwerp, Ghent, Mons, Tournai, Namur, Ostend. His realizations for the Ostend-Dover package boats are now based in the Kunstmuseum aan Zee in Ostend. Several of his works are also in the collections of the Belgian State and of the provinces of Brabant, Henegouwen and Antwerp.