Artist: Wolter, Hendrik Jan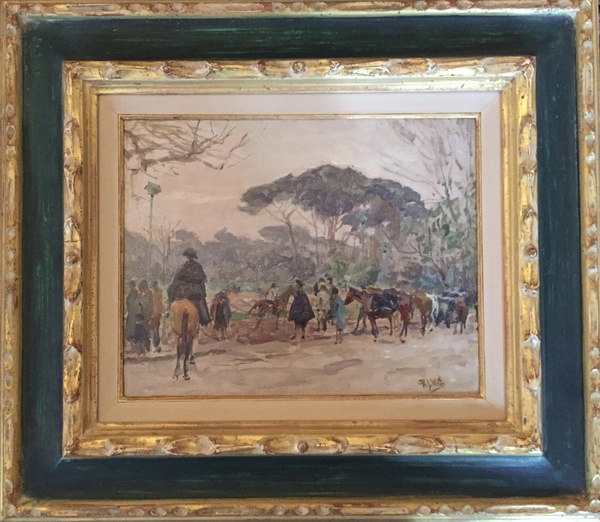 The artist Hendrik Jan Wolter was born in Amsterdam on 15 July 1873. After finishing his military career, he was a pupil of the Academy of Fine Arts in Antwerp between 1895 and 1896. During his stay in Antwerp he had come to know the pointillist work of Georges Seurat, Paul Signac and Théo van Rysselberghe, and to emerge unsurpassed luministic paintings.
The following three years he went to the 'Institut Supérieur', where he got a 'lodge'. For three years he received the "Royal Bursary". In the meantime won the 'Willink van Collen Award'. Wolter studied in Antwerp together with, among others, Simon Maris, the son of the well-known Hague painter Maris, the son of the well-known Hague painter Willem Maris.
In 1899 he settled in Leusden near Amersfoort, then in 1904 he married Popkolina van Hoorn and moved the first time to Laren where he lived around 1915. Between 1925 and 1938 he lived and worked in Amsterdam and Haarlem. In 1924 he returned to Laren. From 1925 to 1938 he was a professor at the Rijks Academie in Amsterdam.
In his first period Wolter painted in a realistic style. The influence of the French impresionists such as Monet and Camille Pisarro increased over time. He also regularly traveled to Paris and spent some time in Rome. Wolter had a strong preference for painting cityscapes. He was so enthusiastic about Rome that, in 1939, after his teacher career, he even moved to Rome. The beginning of World War II forced him to return from Italy in 1940. He settled in Laren again. A debilitating disease caused him to abandon further activity too early. Wolter died on 29 October 1952 in Laren.